Carolock from Braunability - Safe and easy wheelchair transportation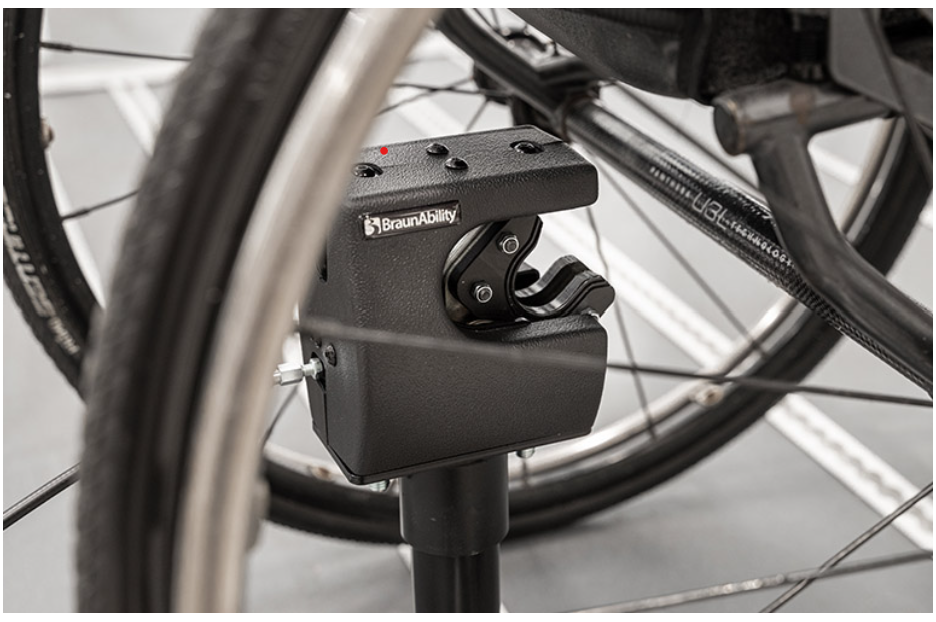 Secure your wheelchair during transport
The Carolock is designed to be simple and user-friendly.
4 easy steps to secure your wheelchair
While sitting in your wheelchair, roll towards the Carolock.
Simply push towards the lock and dock it onto the Carolock.
Now, you can transfer further to your car seat from this position.
Get in your preferred seating position and concentrate on your travels without any safety concerns!
Safe mechanical mobility solution
The convenient design of the mechanical securement system makes it effortless to position and lock your wheelchair.
Once you reach your destination, return to your wheelchair, and release the device from the Carolock using a release handle attached to its mechanical system. By pressing the release handle, your device will be released safely and smoothly.
Flexible wheelchair securement
Built to fit a variety of wheelchair models and sizes, Carolock offers reliability and independence to wheelchair users. Whether you are a driver or a passenger, it offers an easy-to-use solution to secure your mobility device.
You have the flexibility to decide how and where Carolock should be installed, to create a solution that suits you. Whether you are ready for your car ride or if you want to move away from your seat, your mobility device will always be securely positioned.
Safety first, but convenience next
Safety is our top priority. For that reason, the Carolock has undergone a series of rigorous and comprehensive testing to ensure that your mobility device is transported safely and conveniently.
You can find more information here: https://www.braunability.eu/en/products/stowing-solutions/carolock/