The RolliBox from Schnierle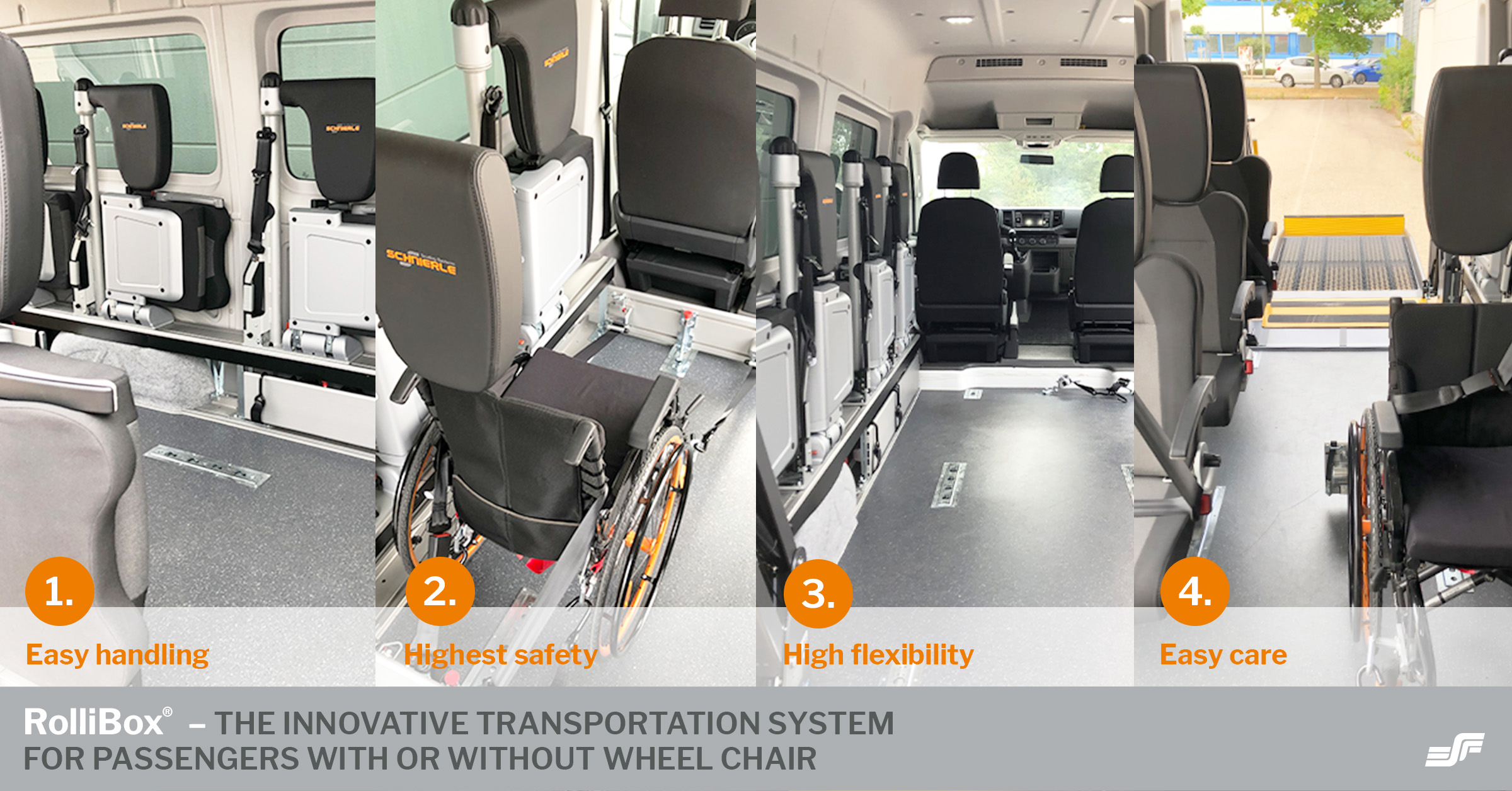 The RolliBox® – our innovative problem solver for passengers with or without chair ! 
Everything in its place - Everything included - Always ready for use
Our RolliBox enables the simultaneous transport of people with limited mobiliy in wheelchairs as well as people without a wheelchair to be comfortable, safe and professional. The seats for passengers without wheelchairs are integrated on seat rails to ensure maximum legroom by eliminating a seat base. The rails allow the seats to be securely attached and moved flexibly.
 
 A flexible system - TÜV tested
What is special about the RolliBox® is that both passengers in wheelchairs and passengers in the seats can use the same 3-point seat belts. The headrests of the fold-away seats also offer the wheelchair user protection in the event of an accident by moving the wheelchair passenger towards the headrest.
The ingenious solution simplifies the carrier's everyday life by always having the maximum number of seats or wheelchair restraint systems on board.



 

Advantages
The wheelchair restraint systems are stored cleanly
Incorrect operation is minimized
Wheelchair spaces can optionally be adjusted in length
Faster/more convenient than standard systems
3-point seat belt can also be positioned at the appropriate height for wheelchair users
Stable and safe
Headrest/backrest for wheelchair users
Sliding seats with low backrest (good visibility outwards)
Seating systems with ISOFIX
Combined transport of passengers with and without wheelchairs
Lighter and cheaper than competing systems
Easy to install
Vehicle floor easy to clean
 
You can find more information here: https://seating-systems.schnierle.de/en/rollibox/
Would you like to know more? We will be happy to advise you! [email protected]